Rookie goes for 4 in a row @ Ironman UK Week 10 of 28
Areet?
Finally, the sun began to shine in Bolton and I was treated to the most glorious cycling weather having 'got lucky' when I booked Friday off work…..
Itching to go and do a lap of the Ironman 'racetrack' I was….
Itching…..
What effect would all the recent 'watt biking' have on my loop performance?
And what time would I be able to knock out in perfect cycling conditions?
I'll cut straight to the chase….
2:29….
Whilst this represents a 10 minute improvement on my last effort, a 2:29 first lap is still 'dogshit'
Don't forget, we need to do 3 laps….
3 x 2:29 laps = 7:30
Add an hour taxi from the flash to the bee hive = 8:30
Mix in an hour and a half swim = 10 Hours versus a T2 cut off of 10:30….
And that presumes I can hold my lap 1 pace on lap 3 (very unlikely)
Nor does it include the customary 10 mins R&R in T1..
Offer me 3 x 2:30 laps on race day and i'll snatch yer hand off….
But the way I felt today after just 1 lap??
I'll be honest with you…
I'm not feelin this new bike course…..
Not at all…..
It's hard work……
Grind from Horwich to Bolton, Stonking climbs through Breightmet, Horrific golf club climb, down to totty, Grind through Greenmount and a tougher grind Greenmount back to Turton Road, climb to Edgworth, Edgeworth descent, Hell on earth grinding past entwistle resevoir, fun down blackburn road, horrible slog past delph sailing club, SHL climb in reverse at the end of the lap simply takes the piss after all that, OK the descent is fun and fast, but we are grinding back to Bolton before you know it….
Repeat 3 times….
I'm not sure I can be arsed with all this again you know…
I guarantee 50% of the field will be losing the will to live at the back end of lap 2, never mind lap 3…..
See the iconic 2017 circuit?? (babylon & hunters)…
It felt like a racetrack….(well at least 1 lap of it did)
But This new one….
It feels more like a 'grind track'….
There is still far too much climbing/grinding and not enough 'racing' and it's doin me nut in…
2 laps of this new circuit maybe…
But 3 within the cut-offs???
I'm scratchin me head at what Ironman are thinking here…..
It's my 'Rookie' opinion that the difficulty bar has been set far too high once again for yer 'common man' and the DNF rate will be on a par with 2019….
Look, this is Bolton, it's meant to be tough…..
Yet I reckon they might have overcooked it a bit again you know….
Always remember, these are the words of a 'fatty' who is now 4 stone over 'peak' – 3 times yer Ironman or not….
And let's have it right…..
It's probably the 4 stone of excess Guinness where the issue really lies….(why did I even enter this again?)
The lard needs to shift….
Pronto….
Rice cake anyone? (ffs)
Here is a strava link to this week's effort (use this as the benchmark for the absolute shittest you can be on a lap and still make the cut) www.strava.com/activities/3181698318
Training this week:
Mon : off
Tues : Pool Mile
Weds : 1 hour watt bike intervals
Thurs : 30 min on the mill
Fri : lap of the IMUK racetrack (2:30)
Sat : Mow the fukin lawn
Sun : 10k on the mill
Total training time this week : 6 hours plus a lawn mow
Next update : Sun 22nd
To understand why I keep entering IMUK click here iron-rookie.com/4-in-a-row-imuk-1-28/
Like this article? so will your mates – feel free to share it and don't forget to 'add' me on FB where you will find my daily training log for 2020 updated daily, as it happens
By the way, have you heard about this book? its nearly 500 pages crammed full of hints and tips detailing exactly how I was able to go from zero fitness to completing an Ironman triathlon and covers super sprint, sprint, olympic 70.3 & full iron distances all from a 'first timer' perspective – please take a moment to read the reviews on amazon www.amazon.co.uk/Secrets-Ironmen-Iron-Rookie/dp/1974002322/ref=sr_1_1?ie=UTF8&qid=1540676777&sr=8-1&keywords=iron+rookie
Ironman® is a registered trademark of the world triathlon corporation and in no way is this website affiliated with or endorsed by Ironman® or the WTC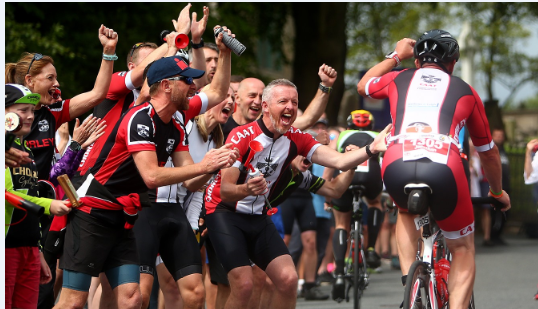 ….